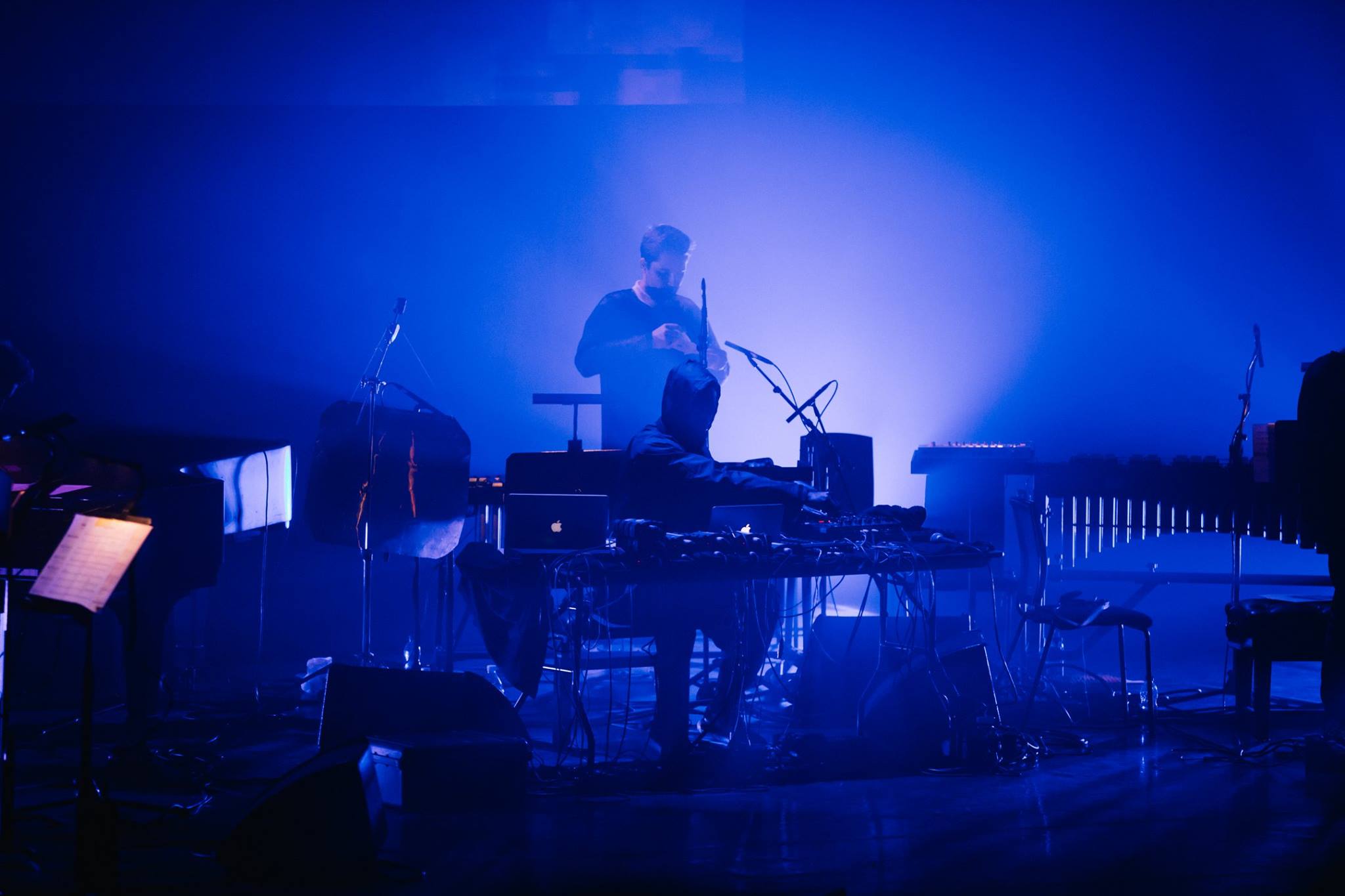 Sam Wilson is a percussionist, composer and vocalist based in London. Active in many genres of music and performance, his work has taken him to concert halls, comedy clubs, stadiums and festivals around the world. He is an avid creator, taking a collaborative and compositional role in most of the work he does, and has undertaken numerous engagements of devising for television and radio.
Sam studied at the Guildhall School of Music and Drama, where he graduated with the Lord Mayor's Prize. During his study he was highly committed to new music performance, and the integration of theatre. When being interviewed following his 12-year-term as Principal of the Guildhall, Barry Ife described Sam's final recital performance of Georges Aperghis' Le Corps A Corps as his highlight, stating "I have never been so profoundly affected and shocked by a performance in my entire life."
Recent projects include a long-standing Boiler Room collaboration with the visionary producer Actress, (culminating in sold out performances at the Barbican and the Strelka Institute in Moscow), Terry Riley's In C performed with the London Contemporary Orchestra and the composer himself in London, the world premiere of G.F. Haas' Solstices (a 70 minute work to be performed by the Riot Ensemble in total darkness), concerts and masterclasses with the percussion quartet 4-Mality, numerous soundtracks for film and television (including 2018's smash hit Black Panther), and performing in London's production of Hamilton.
Between 2011 and 2017 Sam featured in the hip hop comedy act Abandoman, alongside freestyler and comedian Rob Broderick. Sam began collaborating with Rob in 2011, and gradually undertook a more central role in the duo; eventually devising and co-producing all of the material. Their 2014 show Hot Desk was declared the "Best Musical Show" of the Edinburgh Fringe by The Sunday Times, and their 2016 Fringe show Life + Rhymes sold a record run of 10,000 tickets. The last few years have seen them appear frequently on British and Irish prime-time television (including as the house band for Alan Carr's Happy Hour on Channel 4), headline comedy stages at every major music festival in the country, tour to North America, Australia, Europe and Asia, and support Ed Sheeran on a major UK tour.
Sam met composer and electronic artist Anna Meredith in 2010, and has since then performed in her band and helped create her live touring show. He shares writing credits on her album Varmints, (winner of the Scottish Album of the Year Award, 'Best New Music' on Pitchfork, and a mass of 5* reviews from the British and international press), and has co-devised solo/duo works with her including Brisk Widow for drum kits, lights and quad audio, and Gigue, for dance mat. The live band shows are intense and intricate mini-symphonies, in which Sam drums and sings. Writing on his combined performance in The Guardian, critic Maddy Costa describes a "luminous falsetto as delicate as his limbs are forceful and demanding elsewhere". They have brought their show all across Europe, including Berghain (Berlin), Pohoda Festival (Slovakia) and Iceland Airwaves Festival. In 2017 the band embarked on their fist American tour, and were named in the top 10 bands of SXSW Festival by The New York Times. 2018 saw them record their debut at NPR's infamous Tiny Desk series, of which creative director Bob Boilen said: "Out of nearly 700 performances at the Tiny Desk, this is simply the most exhilarating one I've experienced." Their follow-up to Varmints is expected in 2019.
Sam is grateful for the support of JH Audio and Sabian Cymbals.